MYPE, spécialiste français de l'automatisation des processus avec les technologies Power BI et VBA, annonce le lancement officiel du site "Power BI is the future", un site dédié à l'évangélisation autour du logiciel Power BI de Microsoft.
Retrouvez le site "Power BI is the future" ici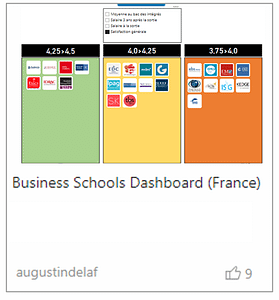 MYPE x Power BI : the story
MYPE dispose d'une véritable expertise reconnue en France sur Power BI.
Ayant commencé à l'utiliser dès 2015, c'est à dire lors de ses balbutiements, nos consultants sont des Early Adopters de cet outil. MYPE maîtrise la totalité de Power BI, c'est à dire depuis le design des rapports et l'extraction des données jusqu'à leur actualisation automatique, en passant par leurs étapes de transformation (en utilisant Dataflow ou Power Query), par l'ajout de scores et indicateurs métier, et par la création de rôles utilisateurs.
MYPE est également intervenu en juillet 2017 pour présenter l'un de ses tableaux de bord Power BI au siège de Microsoft France, face à une cinquantaine d'experts réunis.
Quelques uns de nos projets Power BI de grande envergure :
> Orange, division Technocentre, 2015-2017
Mise en place puis automatisation d'un programme de suivi de la performance de toutes les applications mobiles stratégiques du groupe Orange dans 28 pays, à travers 4 thématiques (agilité, usage, qualité technique, satisfaction). Initiateurs et responsables de la migration du reporting de PowerPoint vers l'outil Microsoft Power BI. Gestion de toutes les étapes liées à Power BI (extraction des données Excel, transformation des données, calcul des 4 thématiques, design et affichage des rapports, accès aux données, gestion des incidents, support technique et fonctionnel.
> TOTAL, division GRP (Gas, Renewables and Power), 2017
Développement et livraison d'un outil de suivi du plan stratégique d'une entité du groupe,capable d'actualiser à la demande les données saisies par plus de 30 utilisateurs sur 20 fichiers, avec le service Power BI. Mise en place d'une requête complexe permettant d'extraire les données d'une multitude de fichiers Excel hébergés sur SharePoint.
Mise en place d'une politique de gestion des rôles utilisateurs (row level security) permettant de filtrer l'accès aux données en fonction de chaque profil utilisateur.
> Société Générale, division CPLE (Compliance), 2018
Initiaeurs et responsables de la mise en place de Power BI Report Server (outil de reporting en cloud interne) sur un projet de "risk assessment" (évaluation des risques) et de suivi de la conformité. (2K+ utilisateurs inscrits). Le système qui était auparavant en place ne permettait l'accès qu'à ~15 utilisateurs, avec Power BI Desktop (outil de reporting en local)
Let us Make Your Process Easier.
#PowerBICommunity #MYPE #powerqueryprogramming #PowerBIconsultingFrance #BusinessIntelligence #PowerBI #PowerQuery #ETL #PerformanceManagement #PowerBIembedded #consultantPowerBIParis #spécialistepowerbiparis